CEO Message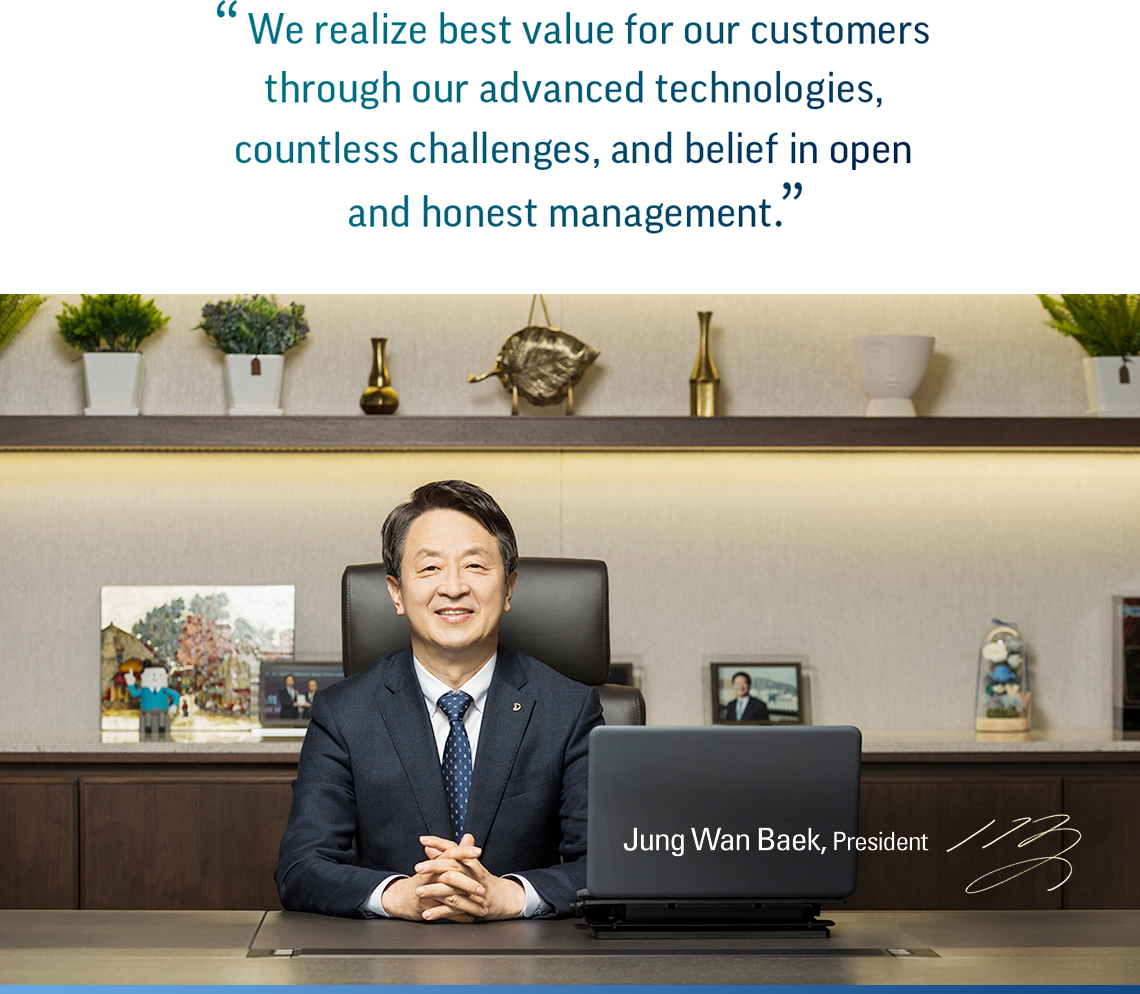 Daewoo E&C has been a leader in the construction industry in South Korea since its founding in 1973, realizing best value for its customers through its dedication to change and challenge and its passion for innovation.

We have always been part and parcel of the rapid economic growth that South Korea has achieved over the past half-century, contributing to the nation's economic stability through the development of a stable housing supply. This has included developing a new standard for the country's residential culture with our "PRUGIO" premium apartment complex brand. In addition, we are becoming increasingly recognized for our leadership in such areas as the design and construction of nuclear, thermal, and hydroelectric power plants. Now we are amassing a solid base of experience and expertise in the field of new and renewable energy.

Daewoo E&C is recognized as a world-renowned global construction company, and aims to be a Global Top 20 by 2025. Our wide range of businesses includes infrastructures, industrial facilities (including oil and gas plants), skyscrapers, and other buildings. We are also dedicated to leading the Fourth Industrial Revolution through the development of new and exciting technologies. We are committed to IT-based research and development, as well as an expansion into new business areas, creating the highest possible enterprise values and a better future for people everywhere.

This commitment will include both solid quantitative and high-quality qualitative growth. We will become an even stronger global player by strengthening our risk management processes throughout the entire range of bidding on and executing projects. In addition, we will add to our profitability through an increased reliance on a well-thought-out system of selection and concentration. Daewoo E&C is changing the world through its adherence to advanced, state-of-the art technologies and its belief in hiring only the best and the brightest in terms of human resources.

We will continue to meet any and all challenges under our vision of "Build Together".

Thank you.